Civ Rep Round Table 4/15/18
---
This will be last Civ Rep Roundtable meeting for this current term. The Vidoe for the meeting is here https://youtu.be/yQ8vl1SC4_8 
The HQ take over system allows civs to enter HQ and start a take over where the cop reinforcements are delayed by 3 minutes (Spawn timer increased to 2 minutes and 30 seconds plus the death screen timer making 3 minutes respawns) is a possibility to come after server performance and other things get done first.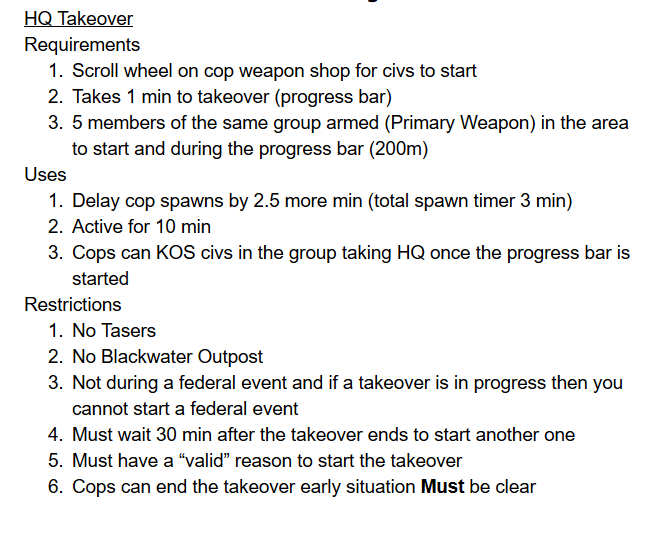 BW buff https://youtu.be/yQ8vl1SC4_8?t=111 at this time stamp. I'm not gonna list the buff items since nothing is confirmed. The buff is not confirmed but is on the list possibility to add to the server.
More Civ related skins here https://youtu.be/yQ8vl1SC4_8?t=273 We never really went into too much detail on the skins but they did say the design team is already working on them.
Jail changes https://youtu.be/yQ8vl1SC4_8?t=323 the jail max time is based on your charges and right now max time is a 1.3 mil bounty. It will be max time at 2.5 mil bounty. So basically 1/2 the requirement to get max time.
New warzone rebel on the list of the list and hopefully be out by next updateish - Fusah
Jail bridge roof is going to be removed
Blackfish is staying at the current price.
As always if you have any ideas feel free to message the current civ reps. or comment down below. I know this civ meeting was small but it was also my last so I didn't want to go out big and make numerous changes to the next civ reps going in.